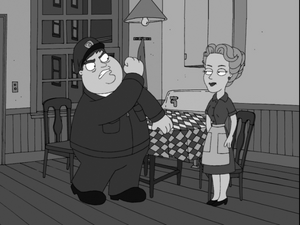 The Honeymooners is an influential situation comedy television show that was created by Marvin Marx, and shot before a live audience which debuted as a half-hour series on October 1, 1955. Although initially a ratings success—it was the #2 show in the United States its first season—it faced stiff competition from the popular Perry Como Show.
The show is seen in "PTV" and in "North by North Quahog". While not directly tied to The Honeymooners, both Gleason and Peter Griffin appear in a bus driver's uniform in "The Fat Guy Strangler".
In "Mr. Saturday Knight", Lois says the ending of this episode reminds her of the episode of The Honeymooners in which Ralph lost his job and did not get it back by the end of the episode.
In a parody of Raiders of the Lost Ark, Gleason appears and yells at Indiana Jones to hurry up. Jones is carefully trying to figure out how to pick up the gold statue in "When You Wish Upon a Weinstein".
In "PTV', Ralph is voiced by Maurice LaMarche.