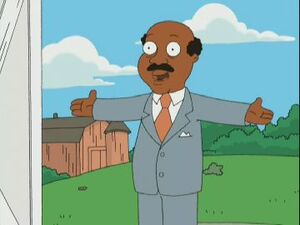 The Jeffersons is an American sitcom that was broadcast on CBS from January 18, 1975, through June 25, 1985, lasting 11 seasons and a total of 253 episodes produced by T.AT. Communications Company from 1975-1982 and Embassy Television from 1982-1985. It is the longest running comedy (or series of any genre) with a predominantly African American cast in the history of American television.
The show focused on George and Louise Jefferson, an upper middle-class African American couple. The show was launched as the second spin-off of All in the Family, on which the Jeffersons had been the neighbors of Archie and Edith Bunker.
Peter mentions episodes of 1970s/1980s sitcoms with black characters, including The Jeffersons, Good Times, Diff'rent Strokes, and The Facts of Life in Peter Griffin: Husband, Father...Brother?.
Sherman Hemsley appeared in The Father, the Son, and the Holy Fonz to encourage people to join "The Church of George Jefferson", the character he originated.
In "PTV", Edith and Archie Bunker of All in the Family dress in Ku Klux Klan robes and light a cross on the Jeffersons' front lawn.
Among the television shows featured in the background during Peter's introduction to ""Family Guy" Through the Years" is an image of The Jeffersons.