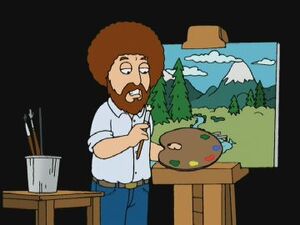 The Joy of Painting was an American television show hosted by paint raconteur Bob Ross that aired on PBS. It taught viewers basic techniques for landscape oil painting. Although Ross could complete a painting in half an hour, the intent of the show was not to teach viewers speed painting. Rather, he intended for viewers to learn certain techniques within the amount of time that the show was allowed. The show lasted until 1994, a year before Ross's death, and five years before Family Guy started.
At the beginning of "Fifteen Minutes of Shame", Peter Griffin learns to paint from an episode of the show. Peter paints a portrait of the cast of Family Ties. A sketch of the family being painted started the show's opening credits.
Ad blocker interference detected!
Wikia is a free-to-use site that makes money from advertising. We have a modified experience for viewers using ad blockers

Wikia is not accessible if you've made further modifications. Remove the custom ad blocker rule(s) and the page will load as expected.