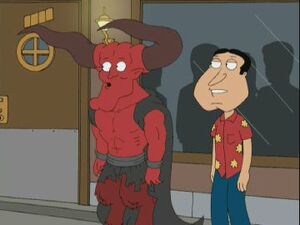 The Lord of Darkness is a character from the 1985 fantasy film movie, Legend, directed by Ridley Scott and starring Tom Cruise, Mia Sara, Tim Curry, Alice Playten, David Bennent, and Billy Barty.
He appears in "Whistle While Your Wife Works". The guys' idea to hang out with him goes awry when his horns spike the eyes of both Glenn Quagmire and Cleveland Brown.
Ad blocker interference detected!
Wikia is a free-to-use site that makes money from advertising. We have a modified experience for viewers using ad blockers

Wikia is not accessible if you've made further modifications. Remove the custom ad blocker rule(s) and the page will load as expected.