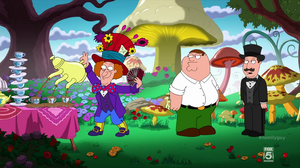 The Hatter is a fictional character in Lewis Carroll's Alice's Adventures in Wonderland and the story's sequel Through the Looking-Glass. He is often referred to as the Mad Hatter, though this term was never used within the books themselves.
Peter is so happy after spending time with Evelyn in "Mom's the Word" that he notes that he hadn't been that grateful since meeting the Sane Hatter. A cutaway shows him expressing his thanks for getting sensible advice rather than the nonsense given by the Mad Hatter. The Sane Hatter admits that they consider the Hatter something of a dick.
Ad blocker interference detected!
Wikia is a free-to-use site that makes money from advertising. We have a modified experience for viewers using ad blockers

Wikia is not accessible if you've made further modifications. Remove the custom ad blocker rule(s) and the page will load as expected.