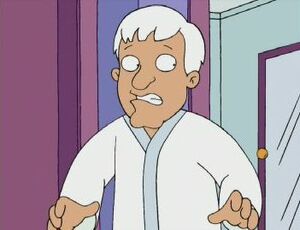 The Man in White was the leader of Heaven's Helpers, a cult whose members commit suicide by drinking poisoned juice in "Chitty Chitty Death Bang". He is voiced by John O'Hurley.
Stewie Griffin has an idea that because he was delivered by a "man in white", a doctor wearing white robes, his first birthday means this "man in white" will return to somehow return him to Lois' pregnancy. When the group dies before him, the cult leader chases after Meg and Peter to join him in suicide, while wearing his ceremonial white robe. When he arrives at their house, he is mistaken by Stewie as "The Man in White" and killed with a laser rifle.
Ad blocker interference detected!
Wikia is a free-to-use site that makes money from advertising. We have a modified experience for viewers using ad blockers

Wikia is not accessible if you've made further modifications. Remove the custom ad blocker rule(s) and the page will load as expected.