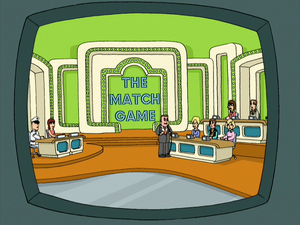 Match Game is an American television game show featuring contestants attempting to match celebrities' answers to fill-in-the-blank questions. Gene Rayburn is the host most commonly associated with the show, and panelists associated with it include Brett Somers, Charles Nelson Reilly, Richard Dawson, and Betty White.
The family references The Match Game when they ask "How hot is it?" in response to Meg's comment about the heat in "Brian: Portrait of a Dog".
Chris Griffin watched an episode in "Mr. Saturday Knight" where the question was "Forgetful Freddy was so forgetful... whenever he tried to remember someone's name he drew a "blank.""