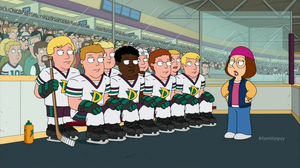 The Anaheim Ducks are a professional ice hockey team based in Anaheim, California They are members of the Pacific Division of the Western Conference of the National Hockey League (NHL). The club was founded in 1993 by The Walt Disney Company as the Mighty Ducks of Anaheim, a name based on the 1992 film The Mighty Ducks.
In "Our Idiot Brian", Brian sets up a cutaway of Meg as coach of the Mighty Ducks. She uses an unconventional play to win the game, but the Zamboni driver quits and another headline protests the tastelessness of the gag.
Ad blocker interference detected!
Wikia is a free-to-use site that makes money from advertising. We have a modified experience for viewers using ad blockers

Wikia is not accessible if you've made further modifications. Remove the custom ad blocker rule(s) and the page will load as expected.