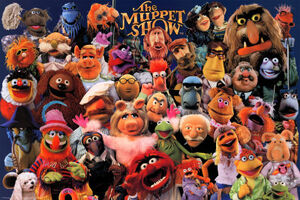 The Muppets are a group of puppet characters created by Jim Henson. Individually, a Muppet is one of the puppets made by Jim Henson or his company's workshop. Although the term is often used to refer to any puppet that resembles the distinctive style of The Muppet Show, the term is both an informal name and legal trademark linked to the characters created by Henson.
The word "Muppet" itself was said by Henson to have been created by combining the words "Marionette" and "puppet". However, Henson was also known to have stated that it was just something he liked the sound of, and he made up the "marionette/puppet" story while talking to a journalist because it sounded plausible.
Episode References
Episodes of Family Guy that Muppets are referenced in:
Note: In "A Picture's Worth a Thousand Bucks", there are two mentions of the Muppets, one mentioned Rats as hotel bellhops, referencing to the Muppet movie, The Great Muppet Caper, and one with Big Bird from Sesame Street). In "Back to the Pilot", there are two mentions of the Muppets as well: First, Stewie has Bert & Ernie dolls playing doctor and in an alternate universe, Cookie Monster invented Facebook.
See Also:
External Links