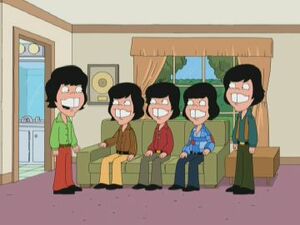 The Osmonds are an American family music group with a long and varied career that took them from singing barbershop music as children, to achieving success as teen-music idols, to producing a hit television show, and to continued success as solo and group performers.
The group originally consisted of brothers Alan Osmond, Wayne Osmond, Merrill Osmond, and Jay Osmond. They were later joined by younger siblings Donny Osmond, Marie Osmond, and Jimmy Osmond.
In "Play It Again, Brian", a cutaway features them wasting water.
Ad blocker interference detected!
Wikia is a free-to-use site that makes money from advertising. We have a modified experience for viewers using ad blockers

Wikia is not accessible if you've made further modifications. Remove the custom ad blocker rule(s) and the page will load as expected.