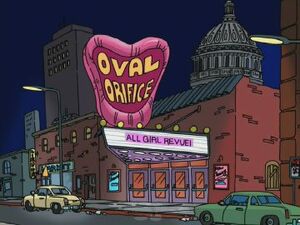 The Oval Orifice is a gentleman's club in Washington DC that Peter Griffin takes Al Gore, George W. Bush, Dick Armey to in "Mr. Griffin Goes to Washington". While in there, Dick Armey ends up accidentally killing a stripper, either by forced ingestion of dollar bills, or hitting her with a bar stool. While there, Peter convinces the congressmen to go against the anti-smoking bill.
Ad blocker interference detected!
Wikia is a free-to-use site that makes money from advertising. We have a modified experience for viewers using ad blockers

Wikia is not accessible if you've made further modifications. Remove the custom ad blocker rule(s) and the page will load as expected.