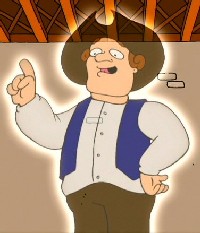 The Pawtucket Patriot is the symbol of Pawtucket Patriot Ale, appearing on the bottle and in advertising for the Pawtucket Brewery.
In "Mind Over Murder" he appears to Peter Griffin in his basement while he is on house arrest and suggests that if he builds his own bar, his friends will come over.
A drunken Quagmire tries to punch the "label guy" on his bottle of ale after he thinks he is trying to hit him first in "Save the Clam".
The Pawtucket Patriot is voiced by Wally Wingert.
Ad blocker interference detected!
Wikia is a free-to-use site that makes money from advertising. We have a modified experience for viewers using ad blockers

Wikia is not accessible if you've made further modifications. Remove the custom ad blocker rule(s) and the page will load as expected.