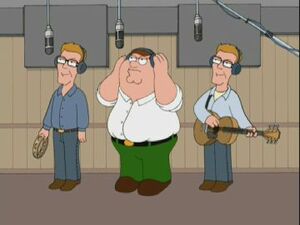 The Proclaimers are a Scottish pop duo consisting of Charlie and Craig Reid, known for their song "I'm Gonna Be (500 Miles)". Peter sang it with them in "You May Now Kiss the...Uh...Guy Who Receives", but he attacked one of them when he was singing with him, and Peter thought he was the only one to be singing.
Ad blocker interference detected!
Wikia is a free-to-use site that makes money from advertising. We have a modified experience for viewers using ad blockers

Wikia is not accessible if you've made further modifications. Remove the custom ad blocker rule(s) and the page will load as expected.