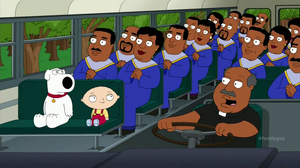 The Quahog Baptist Choir appears in a cutaway from Stewie when he notes that his and Brian's road trip is going better in "This Little Piggy" than the time they traveled with the The Quahog Baptist Choir.
As they travel with the choir, they begin to "Sing What We See", with Stewie joining in successfully, but when Brian muffs his part, he kills the mood and the choir becomes silent for the remainder of the trip.
Ad blocker interference detected!
Wikia is a free-to-use site that makes money from advertising. We have a modified experience for viewers using ad blockers

Wikia is not accessible if you've made further modifications. Remove the custom ad blocker rule(s) and the page will load as expected.