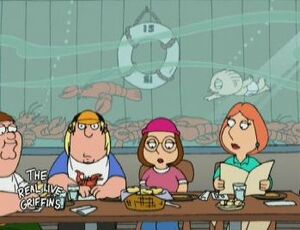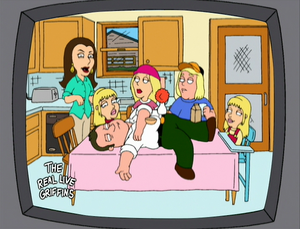 The Real Live Griffins was a reality show produced by Wilshard Watkins starring the Griffins in "Fifteen Minutes of Shame". It followed the family around doing their everyday activities and shenanigans. Eventually, Meg quit and was replaced by Other Meg, a much sexier blonde. Peter and Lois meet with Meg secretly to tell her they can't be seen together due to the new Meg.
Eventually, when Peter and Lois miss Meg, the whole family is replaced after they fail to convince the producer to bring Meg back, and they are forced to live in a motel room until the reality show contract runs out. During this, the show goes on. The show changed its format from reality TV to completely scripted. Peter was played by Tom Arnold, Lois by Fran Drescher, Chris by Philip Seymour Hoffman and Brian and Stewie by Mary-Kate and Ashley Olsen. The first episode with the new cast is a "reshoot" of "Death Has a Shadow".
Ad blocker interference detected!
Wikia is a free-to-use site that makes money from advertising. We have a modified experience for viewers using ad blockers

Wikia is not accessible if you've made further modifications. Remove the custom ad blocker rule(s) and the page will load as expected.