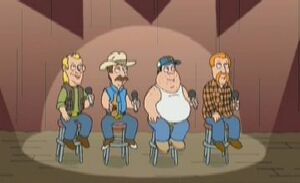 The Redneck Comedy Tour is a national tour of redneck comedians Stink Fleaman, Mike Drunkbeater, Walt "Coffee and Pie" Abernathy, and Larry, who works for the Department of Water and Power. One of the stops on the tour was at The Brine theater in Quahog, Rhode Island during "Airport '07". Their act inspires Peter Griffin to become a redneck.

,
Ad blocker interference detected!
Wikia is a free-to-use site that makes money from advertising. We have a modified experience for viewers using ad blockers

Wikia is not accessible if you've made further modifications. Remove the custom ad blocker rule(s) and the page will load as expected.