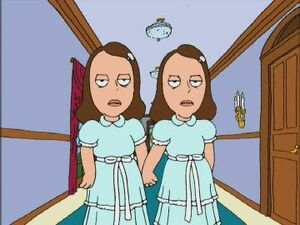 The Shining is a 1980 horror film directed by Stanley Kubrick, based on Stephen King's novel of the same name. Though not initially successful, the film has had status as a cult film. Now being frequently ranked as one of the best horror films in history and its iconic imagery deeply embedded throughout popular culture, although there was a long interval between its release and its achievement of iconic status. The film stars Jack Nicholson as tormented writer Jack Torrance, Shelley Duvall as his wife, Wendy, and Danny Lloyd as their son, Danny.
The film tells the story of a writer, Torrance, who accepts the job of the winter caretaker at a hotel which always gets snowed in during the winter. While his family looks around the hotel during closing day, the psychic hotel chef discovers the psychic abilities of Jack's son Danny, and Danny's ability to detect ghostly presences in the hotel. In the chef's family, this ability is called "shining". When the hotel becomes snowbound, Torrance is driven mad by the ghosts in the hotel, and he tries to murder his wife and son.
The scene when Danny is riding through the hotel and sees the spirits of the Grady twin girls has been parodied in "Peter, Peter, Caviar Eater" and in the opening of "PTV". In the latter, Stewie Griffin runs over the twins with his tricycle. In the former he blows them up with a bazooka missile.
In "Love Thy Trophy", Stewie's letter blocks spell "REDRUM," or "MURDER" backwards which is spoken many times by Danny Torrance as a warning to the danger the family faces and a hint to the hotel's bloody past.
Lois' smashing of The Weekapaugh Inn bathroom door in "Switch the Flip" parodies that of Jack in The Shining.