The Simpsons Guy
Talk

32
5,046pages on
this wiki
This article is a stub. You can help the Family Guy Wiki by expanding it.
The Simpsons Guy
The Griffins meet the Simpsons.

Season: 13 Episode: 01
Total Episode Count: 232
Prod. no.: BACX22 / BACX23
First Aired: September 28, 2014

Guest Starring: Dan Castellaneta, Julie Kavner, Nancy Cartwright, Yeardley Smith, Hank Azaria
Featuring: Peter, Lois, Meg, Chris, Brian, Stewie, Homer Simpson, Marge Simpson, Bart Simpson, Lisa Simpson, Maggie Simpson
Also Appearing: Cleveland, Bob Belcher, Santa's Little Helper, Apu, Moe, Barney, Lenny, Carl, Otto Mann, Ralph Wiggum, Nelson Muntz, Kodos, Kang
Musical Numbers: TBA

Director: TBA
Assistant Director: TBA
Writers: Patrick Meighan
Storyboarders: TBA

Plot: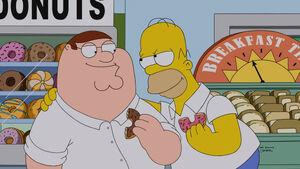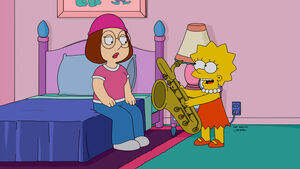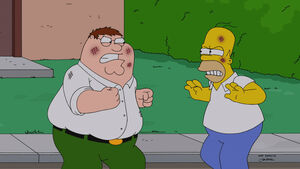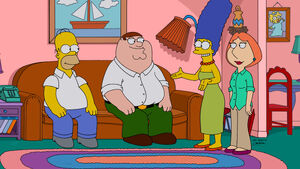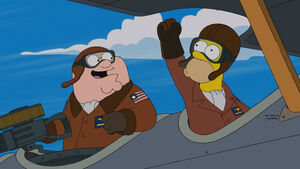 Peter and the Griffins get out of dodge and end up in Springfield, where they are greeted by a friendly stranger named Homer Simpson, who welcomes his new "albino" friends with open arms. The families get along famously: Stewie and Bart make out like bandits when Stewie trades in his mind control device for a good old-fashioned slingshot; Lisa takes Meg under her wing and teaches her the saxophone; and Peter and Homer fight over the best beer in town - Pawtucket vs Duff.