This is the first full-length crossover between Family Guy and The Simpsons. In fact, it is the first time the Simpson family has been fully-featured on another show since separating from The Tracey Ullman Show.
The Simpsons theme is heard throughout the episode while the Griffins are in Springfield.
"Pour Some Sugar On Me" by Def Leppard plays during Peter and Homer's stolen car wash.
Per the DVD commentary, the musical cues as Peter walks away at the end of his fight with Homer is a homage to Gustav Holst's "The Planets".
Peter's remarks about carrying Bob Belcher is a swipe at the somewhat ratings-challenged series.[1] His later remark about Cleveland attempting to fly solo is yet another jab at the cancellation of his own spinoff.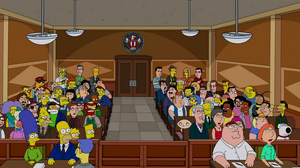 In the courtroom scene, most of the Quahog characters are paired with their Springfield counterparts: Tom Tucker with Kent Brockman, Consuela with Bumblebee Man, Cleveland with Carl, Seamus with the Sea Captain, etc.. Of particular note is James Woods being paired with James Woods. Another noteworthy match pairs John Herbert with Otto Mann, the school bus driver on The Simpsons. According to the DVD commentary for "To Love and Die in Dixie" in Family Guy: The Freakin' Sweet Collection, Herbert was going to be a creepy driver of a school bus that Chris was afraid to go near.
A caricature of Simpsons creator Matt Groening can be seen in rear left side of the courtroom. Family Guy creator Seth MacFarlane can be seen on the right.
Peter's fight with Homer is an homage to his fights with Ernie the Giant Chicken.
Harry Shearer was the only cast member of The Simpsons who did not reprise any of his characters. Most of his characters remain silent, with the exception of Lenny, who was voiced by an imitator.
Lois and Marge mention seeing Surf's Up 2, the fictional sequel to the 2007 film Surf's Up. A real life sequel, Surf's Up 2: WaveMania was released in January 2017, but it was direct-to-video.
Homer tells Peter to say hello to Maude Flanders, and Peter tells Homer to say hello to Muriel Goldman, both references to characters who have died on their shows.
Roger from American Dad! makes an appearance on Kang and Kodos' ship during Peter and Homer's fight. As he gets sucked out of the ship, he says "Thanks for having me!". American Dad! aired its final episode on FOX the previous week.
Judge Fred Flintstone finds that Pawtucket Patriot Ale as well as Duff are both an imitation of his Budrock beer.
Stewie claims Bart sounds like a girl, a nod to Nancy Cartwright, who provides his voice.
The list of "Things Meg might be Good At" Reads: Painting, Hula Hoop, Cooking, Ice Skating, Dancing, Poetry, Science, Puzzles, Video Games, Typing, Reading, Weaving, Tennis, Pottery, Chess, Voice Volume Control.

Despite Lisa disproving this entire list, the family previously praised Meg's cooking in "Trading Places".

Bart says that Nelson has been bullying him for 24 years. The Simpsons first premiered in 1989.
In the end credits which feature the Gracie Films logo, special thanks are given to James L. Brooks, Matt Groening, Al Jean and David Silverman. Instead of having the guest voice actors in alphabetical order as usual, the voice actors from The Simpsons appear first in alphabetical order, followed by the other guest voice actors in alphabetical order.
Episode director Peter Shin worked on The Simpsons from 1990-1995 as a layout artist. Additionally, storyboard artists Francis Dinglasan, Jonathan Gebhart, Orlando Gumatay and James Purdum all worked on The Simpsons prior to switching over to Family Guy.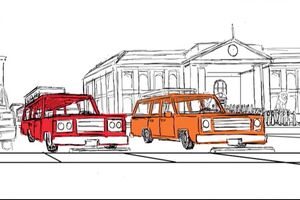 .
Peter complains that his show has never won an Emmy. While Family Guy itself has come up empty, its crew has received five for their individual work.
It is revealed by Marge that Lois doesn't wear a bra in this episode.
The Wilhelm Scream can be heard when Peter and Homer fall into a chemical vat at the power plant.
An unused gag involved a comparison of the station wagons used by the Simpsons and the Griffins.