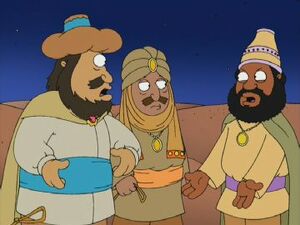 In Christian tradition The Magi, also referred to as The Three Wisemen are said to have visited Jesus after his birth, bearing gifts. They are mentioned only in the Gospel of Matthew, which says that they came "from the east" to worship the Christ, "born King of the Jews". Because three gifts were recorded, there are traditionally said to have been three Magi, though Matthew does not specify their number.
The Three Wisemen appear in "A Very Special Family Guy Freakin' Christmas", on their way, they discover one of them brought gold instead of sticking to the limit they agreed on. They also appear at the Christmas Pageant at the end of the episode with Bonnie Swanson playing the Virgin Mary.
Cleveland, Quagmire and Joe Swanson take on the role as the Three Wisemen in "Jesus, Mary & Joseph".