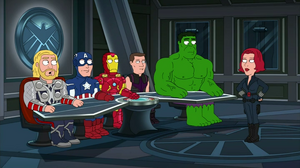 Thor is a fictional character, a superhero that appears in comic books published by Marvel Comics. The character, based on the Norse mythological deity of the same name, is the Asgardian God of thunder and possesses the enchanted hammer Mjolnir, which grants him the ability of flight and weather manipulation amongst his other superhuman attributes.
In "Our Idiot Brian", Stewie accuses Brian of being as useless as the Black Widow of The Avengers when he prefers to stay dumb. Black Widow is questioned by Captain America, Iron Man, Thor, The Incredible Hulk and Hawkeye as to her powers, which she only offers up as kicking. While the rest of the team jokes at her expense, Hulk tries to stay out of it, but is accused of just trying to be nice.
Ad blocker interference detected!
Wikia is a free-to-use site that makes money from advertising. We have a modified experience for viewers using ad blockers

Wikia is not accessible if you've made further modifications. Remove the custom ad blocker rule(s) and the page will load as expected.