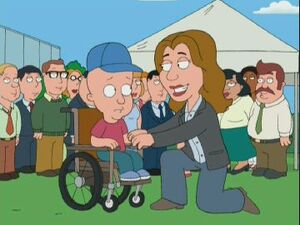 Three Wishes is a reality television show that premiered on NBC and CityTV on September 23, 2005. It featured contemporary Christian musician Amy Grant as she traveled around the country fulfilling the big wishes and dreams of some needy small-town residents.
An episode of the show was seen in "Mother Tucker", where Grant was seen giving false hope to a sick boy, and tried averting him from the grim reality by having an obese Spider-Man show up and give him a gift card.
Ad blocker interference detected!
Wikia is a free-to-use site that makes money from advertising. We have a modified experience for viewers using ad blockers

Wikia is not accessible if you've made further modifications. Remove the custom ad blocker rule(s) and the page will load as expected.