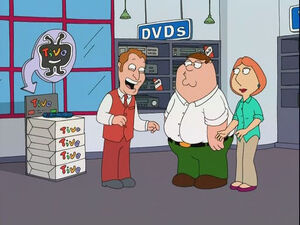 TiVo is a digital video recorder, developed and marketed by TiVo, Inc. and introduced in 1999.
Peter and Lois Griffin bought one at Quahog Circuit Shack in "Bango Was His Name Oh", the second segment of Stewie Griffin: The Untold Story, at the urging of Jim Kaplan. Ensuing conversations are skipped through to show how TiVo works.
King Stewart III uses Colonial England's version of TiVo to watch How I Met Your Mother in "Peter's Progress". To delete a program, royal guards kill the actors.