See also: Timmy II (No Country Club for Old Men)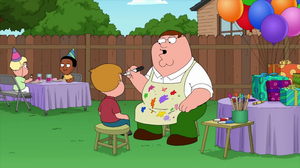 Timmy is a little boy that Peter has a flashback to after he blows his audition on America's Got Talent in "No Country Club for Old Men" and wonders if he can get his old job back painting faces at kids parties. However, after painting Timmy's face, Peter is told that he has been consistently drawing penises on all of the kid's faces.
Ad blocker interference detected!
Wikia is a free-to-use site that makes money from advertising. We have a modified experience for viewers using ad blockers

Wikia is not accessible if you've made further modifications. Remove the custom ad blocker rule(s) and the page will load as expected.