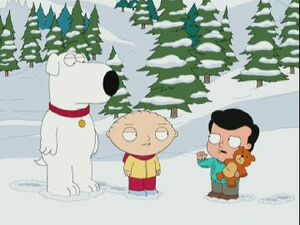 Timmy Cordray is the son of Stanford Cordray. He appears in "Road to Rupert". When Brian accidentally sells Stewie Griffin's teddy bear Rupert they try to get it back. They realize that Timmy's father has bought it for him. He did so to make the move from Quahog, Rhode Island to Aspen, Colorado easier on Timmy.
When Brian and Stewie reach Aspen, Stewie races against Stanford. If Stewie won, Stewie gets Rupert back. If Stanford wins, Timmy gets Rupert and Brian. Stanford wins, after Stewie's cheating attempt fails miserably due to his overconfidence. Stewie's butler, Chrone then pours some scalding hot tea on Timmy as Stewie and Brian quickly get Rupert from his hand and carjack someone and go home.
Ad blocker interference detected!
Wikia is a free-to-use site that makes money from advertising. We have a modified experience for viewers using ad blockers

Wikia is not accessible if you've made further modifications. Remove the custom ad blocker rule(s) and the page will load as expected.