Timmy II (No Country Club for Old Men)
Talk

0
Share
Not to be confused with Timmy (No Country Club for Old Men)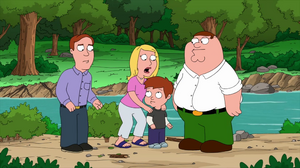 Timmy is an angry little boy down by a river that Reginald Barrington asks Peter to have a word with in "No Country Club for Old Men". To cheer Timmy up from being upset with grown-ups, Peter starts tickling him until Timmy's parents arrive and threaten Peter with the police.
Ad blocker interference detected!
Wikia is a free-to-use site that makes money from advertising. We have a modified experience for viewers using ad blockers

Wikia is not accessible if you've made further modifications. Remove the custom ad blocker rule(s) and the page will load as expected.