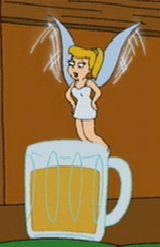 Tinker Bell (also known as Tink for short), is a fictional character from J. M. Barrie's 1904 play and 1911 novel, Peter and Wendy. She has also appeared in multiple film and television adaptations of the story, in particular the 1953 animated Walt Disney picture, Peter Pan.
At first only a supporting character described by her creator as "a common fairy", her animated incarnation was a hit and has since become a widely recognized unofficial mascot of The Walt Disney Company, and the centerpiece of its Disney Fairies media franchise including the direct-to-DVD film, Tinker Bell. In her animated form she leaves a trail of twinkling pixie dust.
Peter Griffin fires her when he found out he could fly for free if his wife, Lois, became an airline stewardess in "Dammit Janet!".
Bruce appears as Tinker Bell in the Disney-style universe in "Road to the Multiverse".