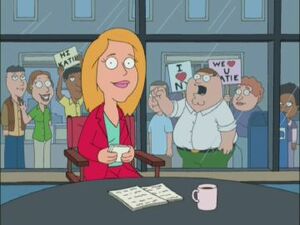 Today (also referred to as The Today Show) is an American morning news and talk show airing every morning on NBC. Debuting on January 14, 1952, it was the first of its genre on American television. The show is also the fourth-longest running American television series.
Then-co-host Katie Couric appeared in the movie Stewie Griffin: The Untold Story, and yelled at Peter Griffin for annoyingly and repeatedly calling her name while she was doing the show. Tom Cruise was going to appear later in the show that day.
Ad blocker interference detected!
Wikia is a free-to-use site that makes money from advertising. We have a modified experience for viewers using ad blockers

Wikia is not accessible if you've made further modifications. Remove the custom ad blocker rule(s) and the page will load as expected.