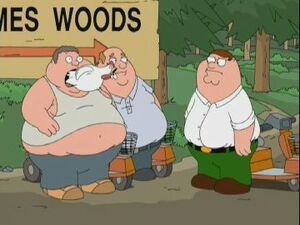 Todd is a morbidly obese man and one of the members of the National Association for the Advancement of Fat People, which was founded by Peter Griffin. He joined the NAAFP in "The Fat Guy Strangler". When the members of the Association were about to enter the James Woods to confront Patrick Pewterschmidt, he upchucked a live chicken. Peter reminded him that he has to chew his food.
Todd is voiced by Will Sasso.
Ad blocker interference detected!
Wikia is a free-to-use site that makes money from advertising. We have a modified experience for viewers using ad blockers

Wikia is not accessible if you've made further modifications. Remove the custom ad blocker rule(s) and the page will load as expected.