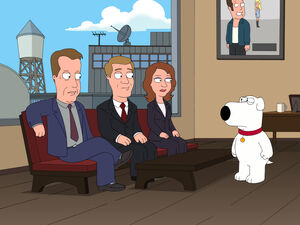 Todd Goldstein is the senior executive in charge of programming at CBS in "Brian Griffin's House of Payne".
After Brian has a screenplay picked up by CBS, Todd and the other executives respond positively, and the initial casting session goes extremely well, with Elijah Wood auditioning for the lead role. Todd decides to expand things further by also bringing in James Woods who performs the role in a much more comedic fashion, winning over the rest of the executives. Todd and the CBS executives quickly turn Brian's serious drama into a comedy sitcom, bringing in a live studio audience, as well as a chimpanzee, and renaming it Class Holes!. Objecting to the changes, Todd reassures Brian by reminding him of what he had tried to achieve for many years: his own television show. Later that night, while not revealing the major changes in his show, the Griffin family, Quagmire, Joe, and Bonnie gather around the television, anticipating Brian's drama. The sitcom then appears, however, much to the entire family's chagrin. Disappointed that Brian allowed the executives to change his show so dramatically, Lois demands that he stand up for himself, and object to everything James Woods had changed about the show. The next day, Todd and the executives do not take kindly to Brian's desire to start over, with Woods continuing to suggest even more outrageous stunts and Brian walks out.
Ad blocker interference detected!
Wikia is a free-to-use site that makes money from advertising. We have a modified experience for viewers using ad blockers

Wikia is not accessible if you've made further modifications. Remove the custom ad blocker rule(s) and the page will load as expected.