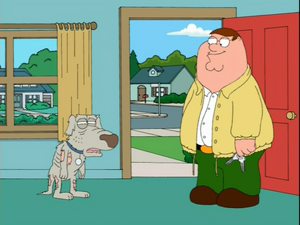 Todd Griffin was the original dog that the Griffins had before Brian. Todd died at the age of 15. The Griffins put him down due to family concerns about Todd's loss of bowel control. When his owner Peter Griffin took him to the veterinarian, he told Todd they were just going for a nice day at the park and Todd accepted the story.
Todd appeared in "Deep Throats" and was voiced by Mike Henry.
Ad blocker interference detected!
Wikia is a free-to-use site that makes money from advertising. We have a modified experience for viewers using ad blockers

Wikia is not accessible if you've made further modifications. Remove the custom ad blocker rule(s) and the page will load as expected.