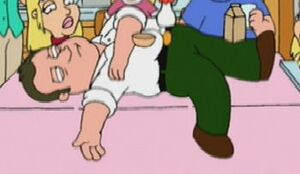 Thomas Duane "Tom" Arnold (born March 6, 1959) is an American actor and comedian. He has starred in many films, most notably True Lies (1994). He was the host of The Best Damn Sports Show Period for four years.
In "Fifteen Minutes of Shame", he is cast as Peter Griffin in the newly scripted show The Real Live Griffins.
He was voiced by Kevin Michael Richardson.
Ad blocker interference detected!
Wikia is a free-to-use site that makes money from advertising. We have a modified experience for viewers using ad blockers

Wikia is not accessible if you've made further modifications. Remove the custom ad blocker rule(s) and the page will load as expected.