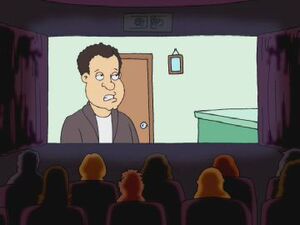 Thomas Jeffrey "Tom" Hanks (born July 9, 1956) is an American actor, producer, writer and director. Hanks worked in television and family-friendly comedies before achieving success as a dramatic actor in several notable roles, including Andrew Beckett in Philadelphia, the title role in Forrest Gump, Commander James A. Lovell in Apollo 13, Captain John H. Miller in Saving Private Ryan, Sheriff Woody in Disney·Pixar's Toy Story, and Chuck Noland in Cast Away. Hanks won consecutive Best Actor Academy Awards, in 1993 for Philadelphia and in 1994 for Forrest Gump.
Hanks is seen in his role as Beckett in Philadelphia which Peter Griffin watches in the movie theater in "Death Has a Shadow". Peter can't figure out who he is at first.
He also appears in his Philadelphia role with E.T. in "Long John Peter". E.T. doesn't want to touch him in fear of getting AIDS.
At the Quahog Cinema in "Friends of Peter G", Peter plays movie trivia, incorrectly guessing Tom Hanks as "Tim Honks". When the answer is revealed, a non-animated headshot of Hanks is seen with it.
Stewie compares Tom Hanks' creation of Wilson in Cast Away to Peter creating a doll of Edna Garrett in "Bigfat".
Ad blocker interference detected!
Wikia is a free-to-use site that makes money from advertising. We have a modified experience for viewers using ad blockers

Wikia is not accessible if you've made further modifications. Remove the custom ad blocker rule(s) and the page will load as expected.