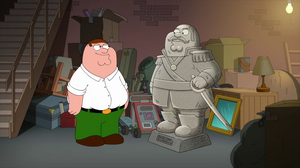 Thomas William "Tom" Hiddleston (born 9 February 1981) is an English actor. He trained at the Royal Academy of Dramatic Art (RADA), and he rose to prominence through a number of TV roles and more recently major film roles. He is best known for his performance as Loki in the Thor film franchise and in the film The Avengers.
Tom provides the voice of the statue of Peter's ancestor in "No Country Club for Old Men".
Ad blocker interference detected!
Wikia is a free-to-use site that makes money from advertising. We have a modified experience for viewers using ad blockers

Wikia is not accessible if you've made further modifications. Remove the custom ad blocker rule(s) and the page will load as expected.