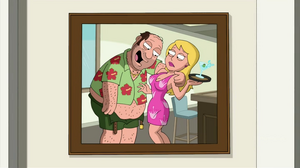 Tommy Bahama is a Seattle-based manufacturer of casual, men's and women's wear with over 130 company-owned Tommy Bahama retail stores nationwide.
Peter shops at Tommy Bahama in "The 2000-Year-Old Virgin", looking for something capable of frightening girls and can yet be passed off as unintentionally threatening. The store clerk points out a picture of the fictional founder of Tommy Bahama in just such wear and notes that the store was built on just those principals.
Ad blocker interference detected!
Wikia is a free-to-use site that makes money from advertising. We have a modified experience for viewers using ad blockers

Wikia is not accessible if you've made further modifications. Remove the custom ad blocker rule(s) and the page will load as expected.