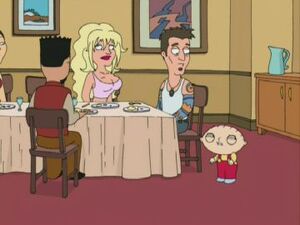 Thomas Lee Bass (aka Tommy Lee) (born October 3, 1962) is an American musician, and founding member of glam metal band Mötley Crüe. As well as being the band's long-term drummer, Lee founded rap-metal band Methods of Mayhem, and has pursued solo musical projects. He has also been married to actresses Heather Locklear and Pamela Anderson, with whom he had two children.
He was seen in "8 Simple Rules for Buying My Teenage Daughter" with then-wife Anderson when Stewie Griffin tries to make a hepatitis joke at a restaurant.
In "Stewie Loves Lois, when Lois rejects Stewie's affections, he reacts by comparing it to a pool party hosted by Lee.
He reappears at the Griffin home in "April in Quahog" after a hepatitis joke. He then advocates against spreading STDs. Peter Griffin seemed very excited to see him.
Stewie finds a book titled Tommy Lee Goes Boating in "Be Careful What You Fish For".