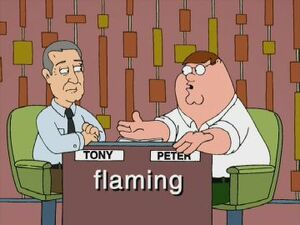 Tony Randall (February 26, 1920 – May 17, 2004) was an American actor, comic, producer and director.
He is perhaps best known for his work on television. His breakthrough role was as history teacher Harvey Weskit in Mr. Peepers (1952–1955). He had the starring role in an NBC special The Secret of Freedom.
After a long hiatus from the medium, he returned as fussbudget Felix Unger in The Odd Couple, opposite Jack Klugman, a role he would keep for five years.
Subsequently, he starred in The Tony Randall Show, in which he played a Philadelphia judge, and Love, Sidney. In the TV movie that served as the latter show's pilot, Sidney Shorr was clearly written as a gay man, but his character's sexuality was made ambiguous when the series premiered.
Peter Griffin was on the game show Password with Randall in a flashback in "Wasted Talent". Griffin would keep giving the clue "You..." no matter what word was given.
Ad blocker interference detected!
Wikia is a free-to-use site that makes money from advertising. We have a modified experience for viewers using ad blockers

Wikia is not accessible if you've made further modifications. Remove the custom ad blocker rule(s) and the page will load as expected.