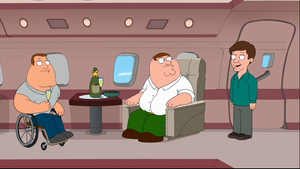 Christopher John "Topher" Grace (born July 12, 1978) is an American actor best known for his portrayal of Eric Forman on the FOX sitcom That '70s Show, as well as appearing in the films Spider-Man 3, In Good Company and Predators.
Topher Grace appears in the uncensored version of "Bigfat". When Joe looks forward to the in-flight movie, Peter points out that on a private plane, Topher Grace comes out to entertain the passengers himself.
Ad blocker interference detected!
Wikia is a free-to-use site that makes money from advertising. We have a modified experience for viewers using ad blockers

Wikia is not accessible if you've made further modifications. Remove the custom ad blocker rule(s) and the page will load as expected.