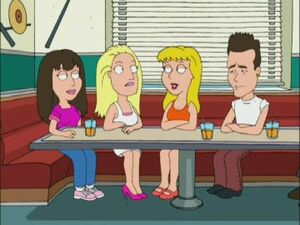 Victoria Davey "Tori" Spelling is an American actress. She is best known for her role as Donna Martin on teen drama Beverly Hills, 90210 from 1990 to 2000 and its spinoff, 90210 in 2009.
In Stewie Griffin: The Untold Story, Jennie Garth, Jason Priestley, Luke Perry, and Spelling appear in a cutaway that parodies her portrayal of Martin, who was a teenager when Spelling, then in her mid-20s, began portraying her.
Ad blocker interference detected!
Wikia is a free-to-use site that makes money from advertising. We have a modified experience for viewers using ad blockers

Wikia is not accessible if you've made further modifications. Remove the custom ad blocker rule(s) and the page will load as expected.