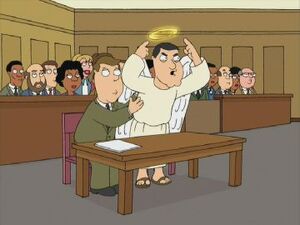 Touched by an Angel is an American drama series that premiered on CBS on September 21, 1994 and ran for 211 episodes and 9 seasons until its conclusion on April 27, 2003. Created by John Masius and produced by Martha Williamson, the series stars Roma Downey, as an angel named Monica, and Della Reese, as her supervisor Tess. Throughout the series, Monica is tasked with bringing guidance and messages from God to various people who are at a crossroads in their lives. From the third season on, they are frequently joined by Andrew (John Dye), the angel of death. As the series progresses, the cases she works help Monica transition from being a rookie "caseworker" to being promoted to a supervisor herself after her final case in the series finale.
A different interpretation of the show is seen in "Ready, Willing, and Disabled". The parody refers to "touched" as molested, in which a child testifies that an angel, sitting at the defendant's table touched him in an inappropriate place.
Ad blocker interference detected!
Wikia is a free-to-use site that makes money from advertising. We have a modified experience for viewers using ad blockers

Wikia is not accessible if you've made further modifications. Remove the custom ad blocker rule(s) and the page will load as expected.