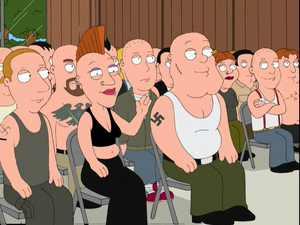 Tracy is a white supremacist neo-Nazi who appears in "Lois Kills Stewie". She sports a red mohawk. She and Paul bring refreshments to the meeting that Derek and his amnesiac friend Lois Griffin attend. However, it is unknown if Tracy and Paul came together and/or are related. Due to her portion of the episode being part of a simulation, it is also unknown whether she actually exists.
Ad blocker interference detected!
Wikia is a free-to-use site that makes money from advertising. We have a modified experience for viewers using ad blockers

Wikia is not accessible if you've made further modifications. Remove the custom ad blocker rule(s) and the page will load as expected.