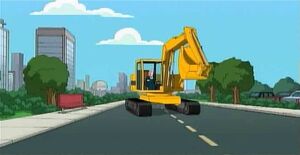 When Meg is wearing Lois' blouse, the buttons do not appear.
When Carter asks if Peter likes the bus bench it has a white outline but the second time it appears it is all red. Also the vehicles to the right of the JCB have changed.
While Peter is making Chris smoke the line between his glasses disappears.
Lois is missing her belly button when Peter says "I DO!" during the prep rally. Also during the beginning of the prep rally, Peter is in a shirt with a yellow short sleeved shirt, the next shot shows Peter in a yellow long sleeved shirt.
Ad blocker interference detected!
Wikia is a free-to-use site that makes money from advertising. We have a modified experience for viewers using ad blockers

Wikia is not accessible if you've made further modifications. Remove the custom ad blocker rule(s) and the page will load as expected.