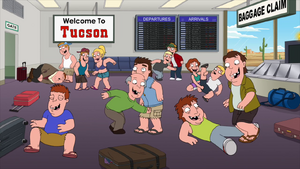 Tucson is the county seat of Pima County, Arizona, United States. Tucson is the second-largest populated city in Arizona behind Phoenix, which both anchor the Arizona Sun Corridor. The city is located 108 miles (172 km) southeast of Phoenix and 60 miles (98 km) north of the U.S.-Mexico border. Tucson is the 32nd largest city and the 52nd largest metropolitan area in the United States.
Peter and Lois take a helicopter tour of Tucson in "Boopa-Dee Bappa-Dee", where they observe things such as numerous boats without water nearby, an all-concrete park, two dogs tied to each other, a possible long-haired lawyer and students running for their lives.
When Peter's refinement and cultured self begins to wear on Lois and the family in "The Most Interesting Man in the World", they send him off to Tucson as the least-cultured place imaginable. On arrival, he is promptly punched in the groin as the rest of the locals also punch and kick each other. When he returns home, he is back to normal, reporting that he saw a wet t-shirt contest with chocolate milk at the Tucson Philharmonic, and spent the rest of his times picking desert boogers.