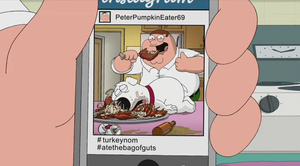 This is the first "guy" episode to have the word in plural and the second Thanksgiving-themed episode after the episode of the same name.
This is the second episode where Chris assumes the role of the family patriarch after "Trading Places".
PeterPumpkinEater69 is Peter's actual Instagram account name. The images were actually uploaded to the account after the episode aired and as Peter points out, Brian is passed out in every one in which he is seen.
Peter previously said he didn't want a tie in "Long John Peter".
Peter mentions Evan Almighty, the sequel to Bruce Almighty.
Peter plays "Stars and Stripes Forever", composed by John Philip Sousa, on the tuba.
Brian's car radio picks up "Meet Virginia" by Train.
While drunk, Chris sings the classic Irish song, "Too-ra-loo-ra-loo-ral (Irish Lullaby)".
The Highland Park Market, visited by Peter and Brian in this episode, is a real store in Connecticut owned by writer Tom Devanney's twin brother Tim.[1]
Per the DVD commentary, the story originally started out as a road trip adventure for Peter before the Thanksgiving theme was selected.