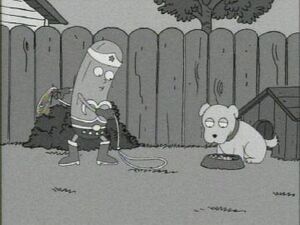 Twinkie the Kid is the mascot for Twinkies, a brand of snack cakes. He is a registered trademark of Interstate Bakeries Corporation.
He appeared as the subject on an installment of Biography on A&E in "Da Boom". His parents bought him a lasso for his Wonder Woman costume and a baton, however they had to take his baton because they thought that he was "already different enough". He also has no bones. It inspires the Griffin family to pursue the Twinkie factory in Natick, Massachusetts after the apocalypse.
Ad blocker interference detected!
Wikia is a free-to-use site that makes money from advertising. We have a modified experience for viewers using ad blockers

Wikia is not accessible if you've made further modifications. Remove the custom ad blocker rule(s) and the page will load as expected.