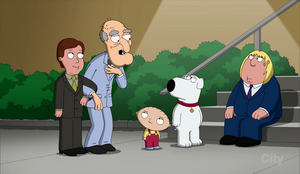 Tyler is Herbert's date to the James Woods Regional High School homecoming dance in "Run, Chris, Run".
When they find Chris outside with Stewie and Brian, Herbert admonishes Chris to not make things weird. As Tyler extends his arm for Herbert, he laughs and compliments Tyler for being a gentleman.
Ad blocker interference detected!
Wikia is a free-to-use site that makes money from advertising. We have a modified experience for viewers using ad blockers

Wikia is not accessible if you've made further modifications. Remove the custom ad blocker rule(s) and the page will load as expected.