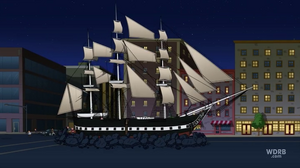 The U.S.S. Constitution is a wooden-hulled, three-masted heavy frigate of the United States Navy. Named by President George Washington after the Constitution of the United States of America, she is the world's oldest commissioned naval vessel afloat. She is berthed at Pier 1 of the former Charlestown Navy Yard, at one end of Boston's Freedom Trail.
During a drunken night on the town in "The Giggity Wife", Peter hijacks the U.S.S. Constitution and sails it through the streets of Boston past the cafe where his former fiancé works who is shocked that he has such a large ship.
Ad blocker interference detected!
Wikia is a free-to-use site that makes money from advertising. We have a modified experience for viewers using ad blockers

Wikia is not accessible if you've made further modifications. Remove the custom ad blocker rule(s) and the page will load as expected.