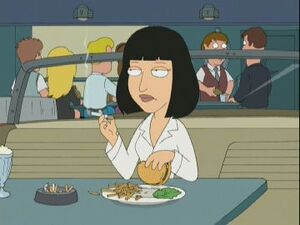 Uma Karuna Thurman (born April 29, 1970) is an American actress and model. She has performed in leading roles in a variety of films, ranging from romantic comedies and dramas to science fiction and action movies. Significant films include Dangerous Liaisons, Pulp Fiction, The Truth About Cats & Dogs, Gattaca, Les Misérables and Kill Bill 1 & 2.
In "Bill and Peter's Bogus Journey", Peter Griffin notes he once had a job as Thurman's eye wrangler on the set of Pulp Fiction.
She appears on the DVD cover of Mad Dog and Glory in "Brian's Got a Brand New Bag".
Peter accounts for a copious sperm donation in "A House Full of Peters" to having seen Uma in Beautiful Girls.