This is Shawn Ries' first solo writing effort.
Peter reports in that "Jimmy Crack Corn" is their wedding song.
"Brass Monkey" by the Beastie Boys plays during the guy's drinking binge.
When the 80s FBI arrive during Chris' hacking attempt, "The Heat Is On", originally by Glenn Fry, plays.
The video clip of the samba dancers takes place at Rio de Janeiro's Sambadrome during Carnival.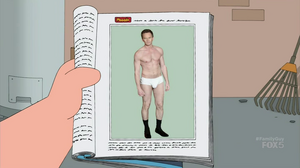 Ad blocker interference detected!
Wikia is a free-to-use site that makes money from advertising. We have a modified experience for viewers using ad blockers

Wikia is not accessible if you've made further modifications. Remove the custom ad blocker rule(s) and the page will load as expected.