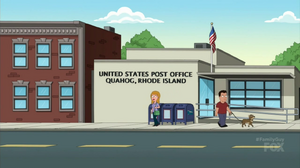 United States Post Office - Quahog, Rhode Island branch is where Lois finds employment with the aid of Cleveland Brown in "Take a Letter".
While at the post office to mail in Stewie's application to Corridors, an exclusive preschool, she finds that Cleveland has a job with them and takes his suggestion to come work for them when she admits they need the money to help with paying for the preschool. On her first day, Cleveland shows her around and provides tips on snooping through the mail. When Mayor Adam West drops off an undeliverable letter, she offers to sort though the dead letter bin and see if she can properly match the correct address on some. While doing this, she finds a letter from Peter to a woman dated just a week before their wedding.
She delivers it personally and meets Gretchen, where she finds out that she is his former girlfriend and is told that Peter was simply happy to be getting married. Gretchen shows up at the Griffin home and reveals that the letter really said that Peter had doubts about his impending marriage and she pressures him to start their relationship again at the risk of her informing Lois of the letter's true content.
While they are out for coffee, Peter tries to explain that he really loves Lois and Gretchen seems to accept this with the condition of a final concert date. Peter continues to feel guilty, and when he leaves, Gretchen's mood changes. At the post office, Lois hears noises but dismisses them. Gretchen texts Peter about solving their problem. Meg interprets this for Peter, informing him that Gretchen is a spurned girlfriend psycho, and he rushes in to the post office as Gretchen pulls a gun on Lois. She reads the letter at Gretchen's insistence and he explains about being scared of disappointing her and of her family who hated him. However, Lois is still angry and seems to give up, but when she steps away, Gretchen starts to move toward Peter and Lois decks her, explaining that she faked being angry with Peter to get Gretchen to drop her guard. Lois admits that she was scared about their wedding too, but she loves Peter as well and is happy about their lives. To show their appreciation for each other, they try to make love on opposite sides of a letter box, but Peter's penis gets stuck. In the end, Lois gets fired for Peter's antics and for her decking Gretchen.